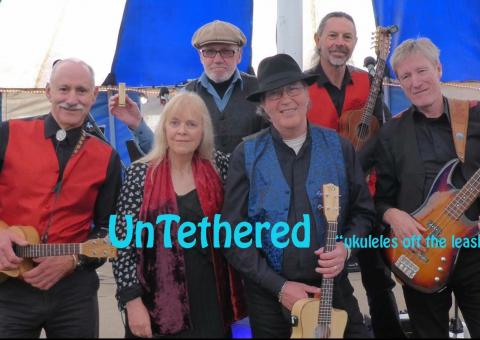 UnTethered is a band from the Kendal area, playing ukuleles, guitar, bass, harmonicas, percussion AND NOW trumpet!. We are developing a fusion of instruments and voices to take a new look at popular & traditional songs. 
The full band is six or seven members, though we sometimes perform with a smaller number. We can be acoustic or amplified, though never too loud - we are not a rock band.
The Kendal Unity Festival is a wonderful opportunity for the band.  We will be playing a short set of some of our favourite songs and then be available for members of the public who are interested in any aspect of our performance whether it be the instruments we play, music choices or, indeed, our own personal musical experiences.  The ukulele is the biggest growing instrument of choice in the country and we would hope to encourage people to find out more about the pure joy of music making.